High-Performance PCI Compliant Hosting for Asp.Net, Asp.Net Core and MS SQL Server based storefronts.
Secure .Net Professional Hosting Service

95

$


per month

Environment Shared With Up To 10 Web Sites
For Sites That Have Less Than 45,000 Visits/Month
10GB High Performance Disk Storage
2GB MS SQL Server Disk Storage
Development Support
Free Site Migration and Setup
Domain Validated Private SSL Certificate
Every Managed Ecommerce Hosting Plan Includes the Following Features
Tackle the complexity of PCI DSS quickly and effectively, with audited and certified cloud infrastructure. Drundo "bundles up" the hardware and software configuration, systems hardening, and managed services you need and provides a matrix of responsibility, to help delineate our responsibilities from yours. All in the name of letting you focus on administrative aspects of compliance and growing your retail and eCommerce businesses.
Included With All Plans
24/7 Ticket and Dedicated Phone Support
Unlimited Data Traffic
Managed Secure MS SQL Database
PCI-DSS SAQ-C Complaint
Assistance with PCI SAQ Forms
Site Uptime and Performance Monitoring
Enterprise Email Powered by Rackspace Cloud Email
Enterprise DNS Service
Daily Site Content and Database Backups
Installed Software
MS Windows Server Enterprise Edition
MS SQL Database Server Web Edition
ASP.NET Core 2.x
ASP.NET 2.0/3.5/4.0/4.5/MVC 3, 4, 5
ASP.NET Dedicated Application Pools
Hosting Control Panel
Internet Information Services (IIS)
Full Trust and Medium Trust Supported
IIS URL Rewrite Module
Available Service AddOns
Expert Custom Programming
Ecommerce Site SEO Optimization
Credit Card Payment Trust Logo
Managed SSL Certificate
Here's How Drundo's Hosting Shoots Past The Competition
Unlike most other companies, we don't try and claim to be experts in all web technologies and shopping cart software available on the web. We only offer service for shopping cart applications we know and have extensive development experience with. This helps us to optimize and fine-tune our platform specifically for those applications. Ecommerce storefronts hosted with Drundo are running at least 60% faster compared to storefronts running on the same shopping cart software hosted with other providers.
Ecommerce site migrated from a traditional shared hosting to Drundo
Below is a screenshot of site response time report monitored by PingDom for www.firstcoastmedicalsupply.com (an ecommerce site running on nopCommerce) before and after the site was migrated to Drundo.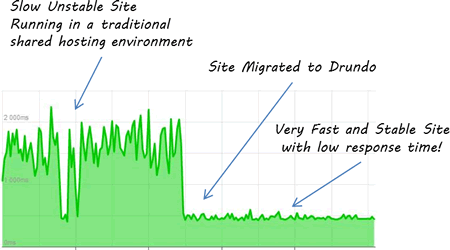 After the migration site speed increased more than three times with consistent response time.
Ecommerce site migrated from a single dedicated server to a dual server configuration with Drundo
Another response time screenshot for a high traffic site www.speedindustry.com before and after the site was migrated to dual server configuration with Drundo.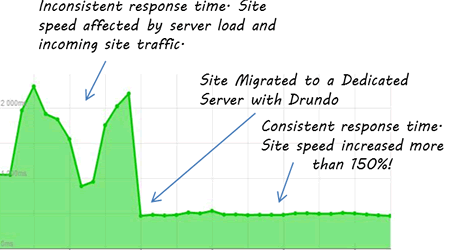 After the migration site has consistent response time and site speed increased more than 150%.
Ecommerce site migrated to a cheaper hosting provider after being hosted with Drundo.
The screenshot below shows decreased site performance and high response time for an ecommerce site migrated away to a cheaper hosting provider offering shared asp.net hosting for any asp.net based site.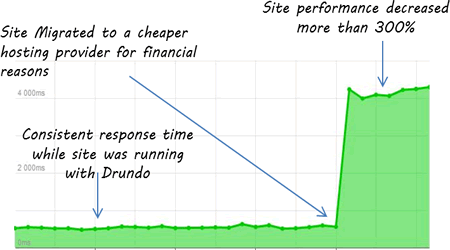 Our customers absolutely love us! See what they are saying about our hosting services!
I can't tell you how pleased I am with my website. It is working so much better now. I am starting to get orders now, something that was totally lacking before. Thanks so much for all you do, it is appreciated.
Truly glad that we found you to host and support our Ablecommerce website. Fantastic job from day one, year and a half ago till now!
Just wanted to say thank you for getting us switched over and taking care of us in a timely manor. We really appreciate it. I will definitely brag on you to other business and ablecommerce. — Thank you,
First, thank you for all your help with the email issues we were having yesterday. It is very appreciated and reminds me of why I prefer to do business with Drundo!!!
Thank you for the excellence tech support from Drundo web hosting where I have my site hosted for almost 2 years. Their response time is so quick and knowledgable techs there know Able very well. Tech support for application level is exceptional important. Other hosting company may provide lower price or bigger space…well but when it come to an application issue, Drundo is the best!