AbleCommece Secure PCI Compliant Hosting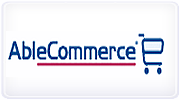 When selecting a host for your online AbleCommerce storefront, you want a team familiar with AbleCommerce, proven reliable and knowledgeable in the ecommerce industry and the platform your shopping cart is based on. Drundo, an AbleCommerce partner is fully compatible with AbleCommerce's hosting requirements and provides assistance with AbleCommerce upgrades and maintenance releases. Host your AbleCommerce based storefront with experts who not only host, but actively develop and extend AbleCommerce functionality for both AbleCommerce 7.0 and AbleCommerce Gold platforms.
24/7 Ticket and Dedicated Phone Support
PCI-DSS SAQ-C Complaint
Assistance with PCI SAQ Forms
Site Uptime and Performance Monitoring
Daily Site Content and Database Backups
Site Setup and Migration Assistance
The best Data-Center Infrastructure provided by Softlayer
The best DNS Service Provided by Amazon Route53 DNS
The best Cloud Email Service provided by Rackspace Email
The best Site Uptime and Performance monitoring from Pingdom
AbleCommerce Development Experts always available to help
Expert AbleCommerce Site Setup and Migration Assistance
Our customers absolutely love us! See what else they are saying about our hosting services!
I can't tell you how pleased I am with my website. It is working so much better now. I am starting to get orders now, something that was totally lacking before. Thanks so much for all you do, it is appreciated.
Truly glad that we found you to host and support our ecommerce website. Fantastic job from day one, year and a half ago till now!
Just wanted to say thank you for getting us switched over and taking care of us in a timely manor. We really appreciate it. I will definitely brag on you to other business. — Thank you,
First, thank you for all your help with the email issues we were having yesterday. It is very appreciated and reminds me of why I prefer to do business with Drundo!!!